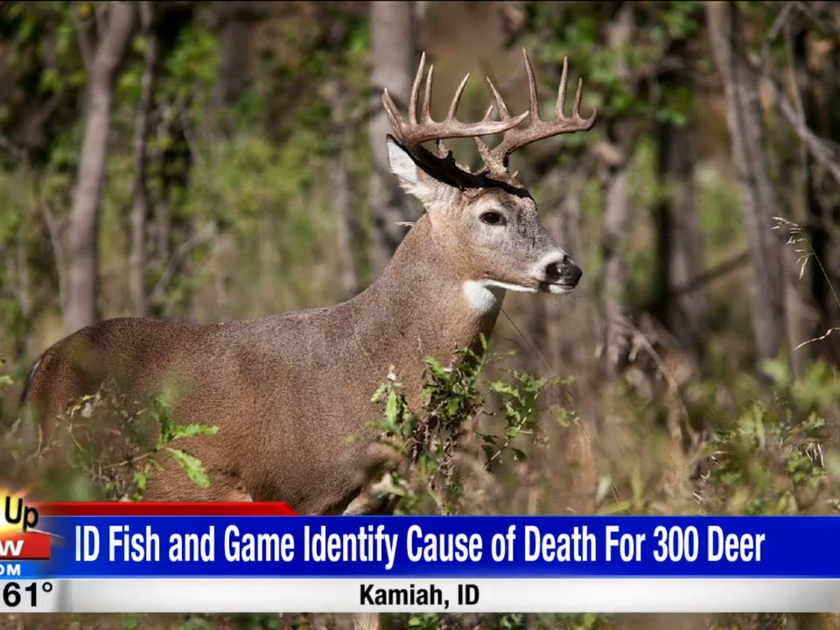 Idaho Fish and Game confirm hemorrhagic disease in multiple dead deer in Kamiah area | News
UPDATE: SEPT. 2  Idaho Fish and Wildlife has confirmed positive cases of Epizootic Hemorrhagic Disease (EHD) virus in
UPDATE: SEPT. 2 
Idaho Fish and Wildlife has confirmed positive cases of Epizootic Hemorrhagic Disease (EHD) virus in samples taken from dead white-tail deer in the Clearwater area.
Officials believe the disease will spread until colder weather arrives in the region.
Warm, dry summer weather created ideal conditions for deer to gather near water sources and become victims of disease spreading biting gnats, according to Fish and Wildlife. 
For more info and frequently asked questions about EHD, click here. 
PREVIOUS COVERAGE:
KAMIAH, Idaho – Idaho Fish and Game say they are continuing to receive reports of people finding dead deer in the Kamiah area, and now approximately 250-300 whitetails have been found in the area. 
Earlier this month, Fish and Game biologists weren't exactly sure what was causing the mysterious deaths. At the time, tests for diseases like Bluetongue and Epizootic Hemorrhagic Disease (EHD) had come back negative.
However, now Fish and Game have confirmed that the disease killing these deer is some type of hemorrhagic disease, though they still don't know the specific type.  Additional tests are being done to try and gain more clarity. 
Fish and Game say that due to the potential for the disease to spread from deer to deer, they are asking people to remove food and water sources that could attract groups of deer. They ask that you report any deer showing symptoms of disease such as acting lethargic or exhibiting respiratory distress. 
If you are wishing to dispose of a deer carcass, you can take it to Simmons Sanitation (3226 Highway 162 in Kamiah) at the expense of Fish and Game. They're calling on neighbors to help neighbors dispose of dead deer, as they are stretched thin and can't keep up with all the reports of carcasses coming in. 
You can also report dead or sick deer online at Fish and Game's Wildlife Health webpage by clicking here.